Welcome to the Blacklist Academy
Online compliance training and marketing law resources, exclusively for members of the Blacklist Alliance.
ABOUT THE BLACKLIST ACADEMY
The Blacklist Academy is a unique marketing law compliance training platform designed from the ground up to provide members of The Blacklist Alliance with the training and resources they need to ensure compliant operations.  
The Academy features an ever-expanding catalog of engaging online courses, all of which are designed to reduce the risk of a regulatory enforcement action.  The Academy also simplifies the vital process of documenting compliance training, which can help to reduce or even eliminate fines and penalties that might otherwise be levied if a violation occurs.
Alliance Members can also utilize the Academy platform to onboard new employees, educate existing staff, and remotely train home-based workers. The Blacklist Academy also provides easy access to valuable legal resources, such as best practices guides, form documents, and quick answers to compliance-related questions.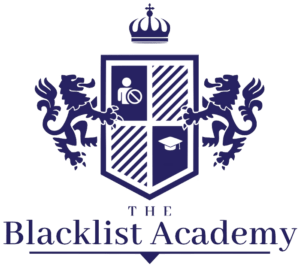 Compliance Training
All you need to train your team on federal and state regulations that apply to your business.
Resource Library
Access current state and federal statutes and rules that apply to your operations.
Forms Collection
Download and modify compliance policies, contracts, and other legal documents.
Track Progress
Monitor employee course enrollments and completion certificates.
Regulations Wizards
Learn which regulations apply to your business based on your day-to-day activities.
Articles and Guides
Access articles and best practices guides for legal and compliance matters.